Hello hello, Halloween is just around the corner! Alas, this year's spooky season might just be constrained to more indoorsy, tight-knit mischief. For some of us, little ones are at home too, which means no blood-gushing slasher flicks, scary tales that keep you up at night, or excessively sensual vampire movies.
But hey, this cloud has a silver lining. You can take this chance to revisit those cheesy family-friendly classics you grew up with (and drag the kids along)!
Stock up on sweet treats, switch that 3-ply to one of your scary masks, and cosy up over your favourite fright flick. In case you're spoilt for choice, here are 10 of our not-so-scary Halloween picks for hours upon hours of carefree fun, starting of course with a couple of Tim Burton's macabre stop-motion animated musicals.
1. The Nightmare Before Christmas (1993)
This household classic brings a twist to Christmas movies so twisty that it doubles as a Halloween movie too. Jack Skellington, the Pumpkin King of Halloween Town, stumbles upon Christmas Town which inspires him to hijack the jolly holiday. Follow as his schemes for a festive crossover inadvertently lead to mischief and mayhem. The dark fantasy cult classic offers stylishly designed characters and sets, as well as a catchy ensemble of gothic musical numbers to sing along to.
2. Corpse Bride (2005)
Till death, some say, does a married couple apart—but what if one of them is already dead? While Victor practises his wedding vows in the woods, he accidentally awakens the corpse of Emily, a once-betrothed bride who met an untimely demise, now convinced that they are to wed. Tim Burton's revisit into grim comedy musicals presents a satirical pair of settings—a mundane late-1800s Victorian village where the high-society folks dwell, versus an ironically livelier land of the dead.
3. The Witches (1990)
Witches live among us! They dress like us, live like us, but hate children with all their guts. Based on the Roald Dahl novel, The Witches follows a bright young boy and his heedful grandmother in their efforts to foil the devious plan of a coven of witches to turn all the kids in England into mice! Cosy up for a full course of hair-raising dark magic, bone-chilling witch lores, the posh halls of England's Headland Hotel, and a perilous chase much like in Stuart Little.
Do look out for the upcoming remake too, with Anne Hathaway taking over as the maleficent Grand High Witch.
Fair warning: The witches' true form can be either comically cheesy or frightening as heck for some kids. There is no in-between.
4. Monster House (2006)
Home is where the heart is, in quite the literal sense here. Living along a quaint suburban street, DJ and his friends discover the big secret of his cranky ol' neighbour's house—it's alive! The witty bunch races against time to bring down the man-eating monster house as Halloween night inches closer, where unsuspecting trick-or-treaters may just end up being the treat.
5. The Addams Family (1991)
Meet the aristocratic Addamses, a gothic family comically charming in their own macabre, morbid way. Based on the '30s cartoon by Charles Addams, the eccentric ensemble offers heart-warming familial values and dark humour throughout, as they struggle to fit in with society's way of life (and fend off those who seek to exploit them).
6. Coraline (2009)
Here's a stop-motion masterpiece that serves a subtle dread of horror through the lens of its eerie charm. In a precautionary tale to be careful what you wish for, the adventurous Coraline stumbles upon a secret door that leads to an invitingly ideal version of her dissatisfying home and family. She soon realises that, beneath all that allure, lies a sinister plot.
Fair warning: It's not at all riddled with jump scares or gore, but the film carries a grim undertone with pretty creepy themes that may be unsettling for some children (and adults).
7. Coco (2017)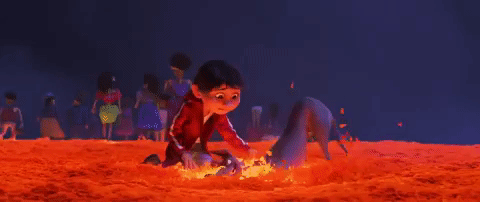 Straying away from the frights, here's one inspired by the Mexican Día de Muertos (Day of the Dead), a rather heart-warming festival where folks gather to support their deceased loved ones in their spiritual journey. The film follows young Miguel, an aspiring musician despite his family's disapproval. A brief scuffle during the festival lands him stranded in the Land of the Dead, where he journeys in search of his late idol to prove his talent and unravel a hidden story behind his family history. 
If you're looking for an epic adventure with vibrant, gorgeous settings and some feels (okay, lots of feels), then this is it! A personal favourite.
8. Hocus Pocus (1993)
Witches seem to be doing mighty fine in the age-defying department, and their secret ain't an elaborate skincare routine. How, then? They simply sip the life out of little children! Works like a charm.
Three evil witches who reigned in 16th-century town of Salem are accidentally resurrected by a teenage boy on a Halloween night 300 years later. The comedy classic features a comical chase by the out-of-time villainous trio, catchy witch rhymes, witty kids to match, and tonnes of spooky Halloween costumes from the '90s.
9. Kiki's Delivery Service (1989)
Okay, not all witches are children-eating hags. They were once kids too! Pull up some subtitles and immerse in one of Studio Ghibli's visual gems! The Japanese animated feature follows Kiki, a young witch who moves to a coastal town and sets up a flying delivery service. Her journey finds company in the comical sass of her talking black cat Jiji. A light-hearted yet thoughtful narrative, the film explores coming-of-age themes such as self-doubt, vulnerability, independence, and self-discovery. 
10. Harry Potter and the Philosopher's Stone (2001)
An obvious pick for a Halloween watch (and every other day of the year), Philosopher's Stone captures the spooky season's essence as we follow Harry's discovery of the wizarding world. The film introduces magic in all its awes and wonders for us to experience vicariously through 11-year-old Harry, who finds out that he's a wizard and goes on to attend a wizarding school, kickstarting a life of thrilling adventures. So cosy up to this absolute masterpiece with some tissue papers at hand as you cry over your long-overdue Hogwarts letter that will probably never arrive.
Interesting events in this film that fall on Halloween:
1981: Harry's parents were murdered when he was baby! 🙁
1991: Harry, Hermione, and Ron defeated a mountain troll in their first year! 🙂
And that's all!
If you're also keen to invest a little more time into a spooky animated TV series, Over the Garden Wall and Gravity Falls are but a couple of treasures in this department!
Should you also be interested in some sweet sweet cinema experiences, check these guys out:
Stay spooky, stay safe! Happy Halloween!