hThe holy month of Ramadhan is here and Muslims all around the world are celebrating it by fasting with an aim to grow spiritually and building stronger relationship with Allah. As for Malaysians, it means that Ramadhan bazaars will be open for the entire month and we get to buy various types of delicious food.  Here are a few popular foods you should try, if you are the type who usually can't pick over a variety of delectable local delights:
Nasi Kerabu
This blue rice dish is topped with various aromatic ulam comes from Kelantan, perfect with fried chicken or any protein of choice.
Image: RebeccaSaw.com
Nasi Tomato & Ayam Masak Merah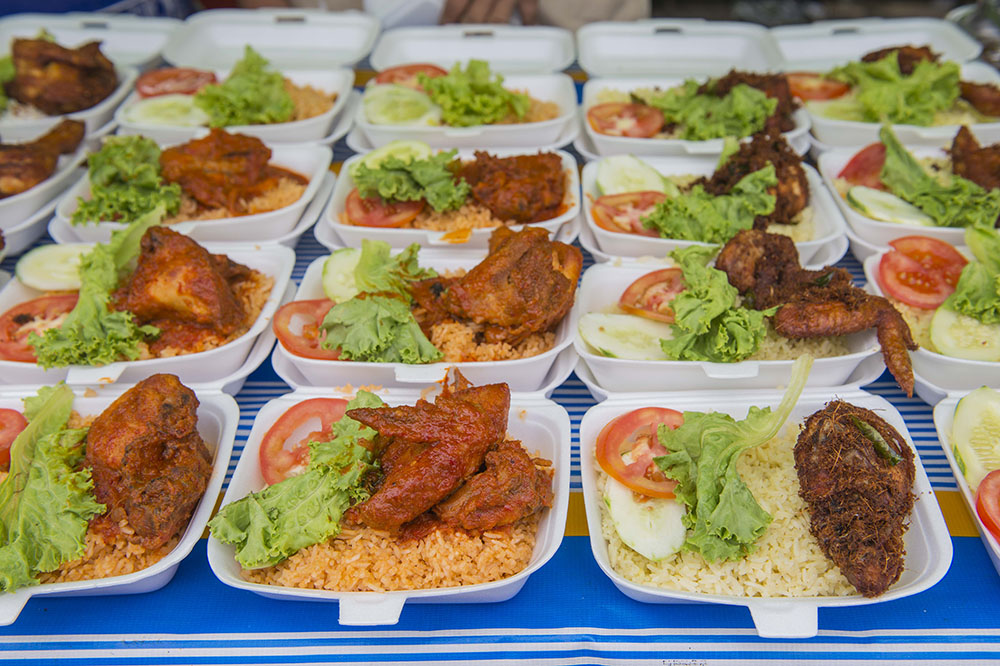 Image: mzcatering.com
Delicious tomato rice served with ayam masak merah is one of the popular main dish to get in Ramadhan bazaar.
Ayam Percik
Image: resepiuntukdikongsi87
The aromatic smoke that's always lingering in the air in Ramadhan bazaar usually comes from ayam percik being grilled over charcoal. It's already good to eat on its own or with warm white rice. Be sure to ask for an extra packet of spicy chilli sauce because one packet won't be enough!
Roti John
Image: www.sislin76.com
A combination of beef or chicken and eggs as sandwich filling, topped with mayo and chilli sauce will make your mouth water! Before you know it you'll be buying 2 sets of these, lol!
Murtabak
Image: Zauyah Sudin Pinterest
Murtabak will usually come in beef or chicken and normally served with a small bowl of curry or red onion syrup.
Tepung Pelita
Image: Mingguan Wanita
This soft and sweet dessert will definitely rouse your palate for buka puasa!
Traditional Malay Kuih Muih
Image: seriouseats.com
Something just doesn't feel right when you only buy two or three packs of main dishes and go home without buying kuih muih like karipap, seri muka, ketayap or koci. Go on, buy a few Malay kuih for dessert!
That made you hungry, right? Haha.
Head down to the nearest Ramadhan bazaar and buy all the food listed! Or, check out some of our Ramadhan offers here:
*Please make sure you adhere to SOP and maintain social distancing.
Stay safe and selamat berpuasa to all Muslims <3